Biography
The Goodstock Project is the codename for an experimental collaboration started in the first lockdown of Spring 2020. The idea being to prove whether it's possible – if everyone can agree on an arrangement of a song, and have a solid click-track to work to – to record without even being in the same room, recording weeks apart with each individual engineering their own track, with no overall strategy.
To provide a bit of added challenge and to increase the feeling of togetherness, despite being holed up separately, the recording of their own part was also filmed (nothing more sophisticated than a phone) so each could see the other at work, just as it would be in the rehearsal room.
Possible? The answer is a resounding yes, and the first fruit of that collaboration was the audio & video track, Hotel, which Jon (bass), Ol (guitar), and Ben (drums) recorded first, and then June overlaid vocals and harmonies a little while later.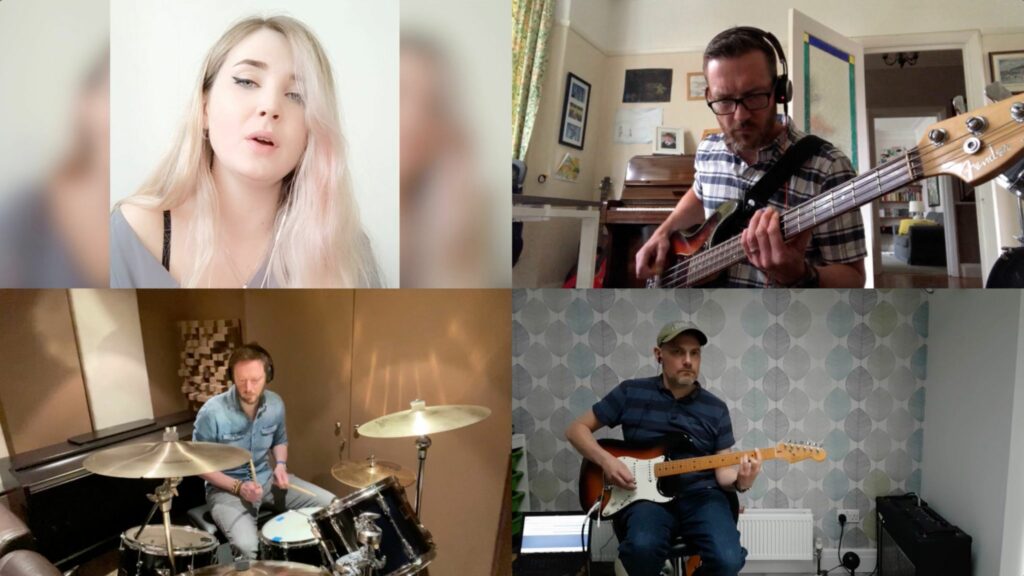 As at the start of 2022, The Goodstock Project is putting the finishing touches on a few more lockdown tracks (with accompanying low-fi video) – and in a spectacular hedging of their Pandemic bets, will record more tracks remotely if there are more enforced restrictions, but if Spring 2022 is all-clear for live performances they might even be forced to meet up and actually rehearse something in the same room!
In January 2022, new lockdown track/ vid "The Drop" dropped (!), which can be seen here: The Drop, by The Goodstock Project
The 3rd installment followed in Feb 2022 – We Mean Well, a rockier number with the same "Lockdown-Fidelity" technique employed for both audio and video.
The same remote recording method was used on the 4th track "Be The One", another rockier number, but this time the raw takes were passed to Speaks for mixing – the biggest sound far.
Personnel
The Goodstock Project have amassed a good body of work and have extensive live experience across various bands, across various styles, and are currently building a set list of their own to take to the pro-studio (really? Are the iphones not enough?) or to the stage soon.
In the still from the video you can see:
June – vocals & guitar. Jon – bass guitar
Ben – drums & percussion. Ol – guitar
Links
The Goodstock Project on ReverbNation
The Goodstock Project on YouTube
First track released as a demo: Hotel, by The Goodstock Project
Second lo-fi lockdown demo: The Drop, by The Goodstock Project
Third lo-fi lockdown demo: We Mean Well, by The Goodstock Project
Fourth lockdown demo, not quite as lo-fi because it has a pro audio mix by Speaks: Be The One, by The Goodstock Project